The main city of Adjara-Batumi was declared the best tourist destination by the American Academy of Hospitality Sciences in 2012. In recent Forbes rankings, Batumi was given a place amongst top five 'velvet season' recreational resorts.
However, this doesn't mean that Batumi is suitable for only 'velvet season' leisure activities. You can visit the city all year round for business or recreation. Batumi can be a perfect destination whether for high-profile international meetings or family weekends. Furthermore, Batumi city is desirable in any weather. The rainy Batumi is romantic – Colourful umbrellas, cheerful people-pebbled streets and hot steam of coffee on the sand, seeping through cozy local cafes. Colourful doors lead you to these cafes. There's a lot of them in Batumi and taking photos against their background has become a tradition for the city guests.
In old Batumi, next to Piazza, in the alcove of a historical house on Gorgasali street, you can find the statue of a boy with a flute. This statue is considered to be a symbol of Batumi and has acquired such popularity that its modern, modification versions can be found by the entrance of the city boulevard. Check out Ali and Nino sculpture – their extraordinary date expressed in metal awakes wonderful emotions.
Start from there and be confident that there is much to see. With its old and new architecture, old port, European style squares, high-class hotels and other attractions Batumi is Georgia's one of the best parts and cultural centers. You can get to the city easily, through terrestrial, aerial and maritime transport be it from European or Asian countries.
In addition to conference halls where international level conferences take place, Batumi offers various means of entertainment: aqua park, horse riding club, Ferris Wheel, maritime cruises, fly boarding, diving-center, paragliding, cycling, cinemas, casinos. You can also attend annual classical and jazz music festivals where a number of global stars have featured already.
Batumi will open its theatre and exhibition hall doors for you. Spaces where you can walk and think about the past, the present and the future. Batumi feels like a yard which is full of happiness!
Batumi will open its theatre and exhibition hall doors for you. Spaces where you can walk and think about the past, the present and the future. Batumi feels like a yard which is full of happiness!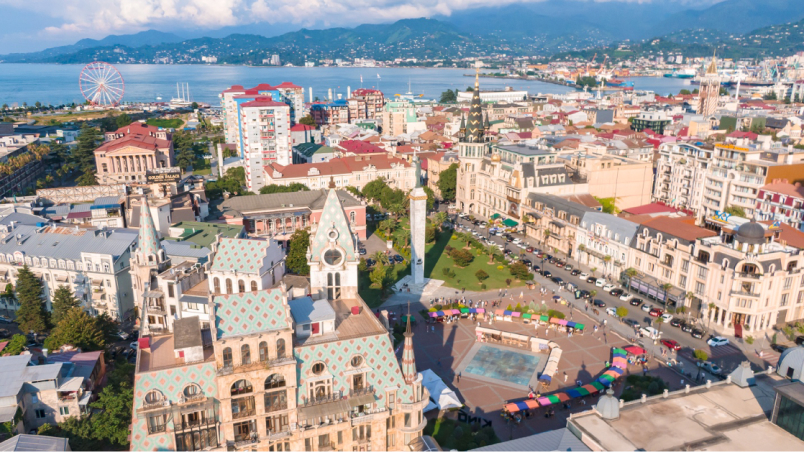 TOP PLACES TO VISIT IN BATUMI
Michael D'alfons was the first to introduce new plant species in Adjara which he started in 1881 in order to embellish his garden nearby Chakvi.
Later, in 1892, a geographer, botanist and traveller Pavel Tatarinov created a so-called acclimatisation garden on Batumi shoreline which is known as the Upper Garden of Batumi Botanical nowadays.
In 1912, the professor Andrej Krasnov from Kharkov University founded the Botanical garden itself. It is located only 9 km away from Batumi city, between Chakvistavi river and Green Cape. The garden occupies about 1 km of the coastline and grows 0-220 m above sea level.
Once this territory was covered by Colchian forests, abundant with redwood, chestnut, Tilia Caucasica, cherry laurel and rhododendron trees.
From 2,037 hardwood species in the garden, 104 is endemic Caucasian and 1,540 is introduced. These plants are grouped according to their origin in 9 phytogeographic sections, including Australian, New Zealand, East Asia, Himalaya, North America, Mexico, South America, Mediterranean and Caucasus subtropical sections.
Batumi Botanical Garden is the board member of Botanic Gardens Conservation International (BGCI). It is also connected with over 140 botanical gardens from around the world, as well as the universities and research centres.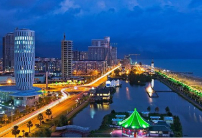 Batumi Boulevard is one of the main attractions for the town's visitors. The wide boulevard follows the seaside and is full of beach bars, café-lounges, restaurants, amusement rides for children and various colorful and dancing fountains. In addition to unique vegetation, you will find in Batumi Boulevard many interesting sculptures and architectural monuments. Batumi Boulevard has a history of over a century. Its construction began in 1881.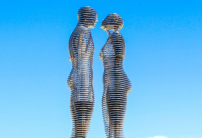 This statue of eternal love and understanding between nations has become one of the most beautiful symbols of Batumi. The eight-meter-high rotating statue of a man and a woman is a work of the Georgian artist and sculptor Tamar Kvesitadze. The sculpture's name comes from the famous novel by Kurban Said of the same name. Ali and Nino was created in 2010 and immediately became a symbol of love and the crossroads between Europe and Asia.
Information regarding tourist destinations can be found on the following website: www.georgia.travel
BATUMI INTERNATIONAL AIRPORT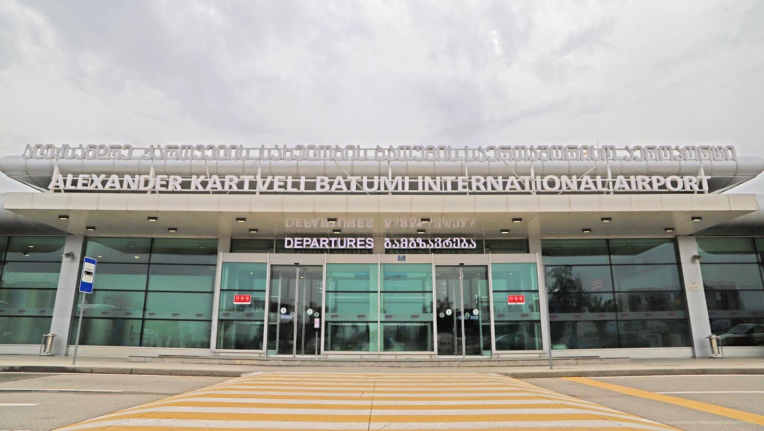 Located just 2 km from the city, Batumi International Airport (BUS) serves both international and domestic flights. The new terminal, which opened in 2007 has 6 check-in desks and 4 passport stations. Hereby, Georgia and Turkey have signed an agreement whereby Batumi Airport is considered part of Turkey's domestic network, creating favorable environment for flights between the two countries.