UEFA UNDER21 CHAMPIONSHIP 2023
UEFA Under-21 European Championship was launched in 1976, and has been held every two years since then. Previously, international European youth championships were held at U-19 and U-23 levels in various formats between 1967 and 1976.
The age limit introduced for the 1976-78 competition is still in place today – players born in 2000 or later will take part in the 2023 final tournament, where some of them may already be 23 years old. According to the tournament regulations, if a player is 21 years of age or younger at the start of the qualifying campaign, he is eligible to participate in the finals.
Since 1992, the U-21 European Championship also acts as a qualifying event for the Summer Olympics. European countries will be competing for four places at the Olympics. Past participants include Luis Figo, Mesut Özil, Juan Mata, Gianluigi Buffon, Fabio Cannavaro, Iker Casillas, Mark Hately, Thiago Alcantara, Davor Šuker, Andrea Pirlo, Rudi Völler, Laurent Blanc and others.
The 1980 edition of the U-21 European Championship was won by the Soviet Union team that included Georgians Vitali Daraselia and Ramaz Shengelia, the latter finishing the tournament as top scorer with 3 goals. 
MEET THE UEFA EUROPEAN UNDER-21 CHAMPIONSHIP TROPHY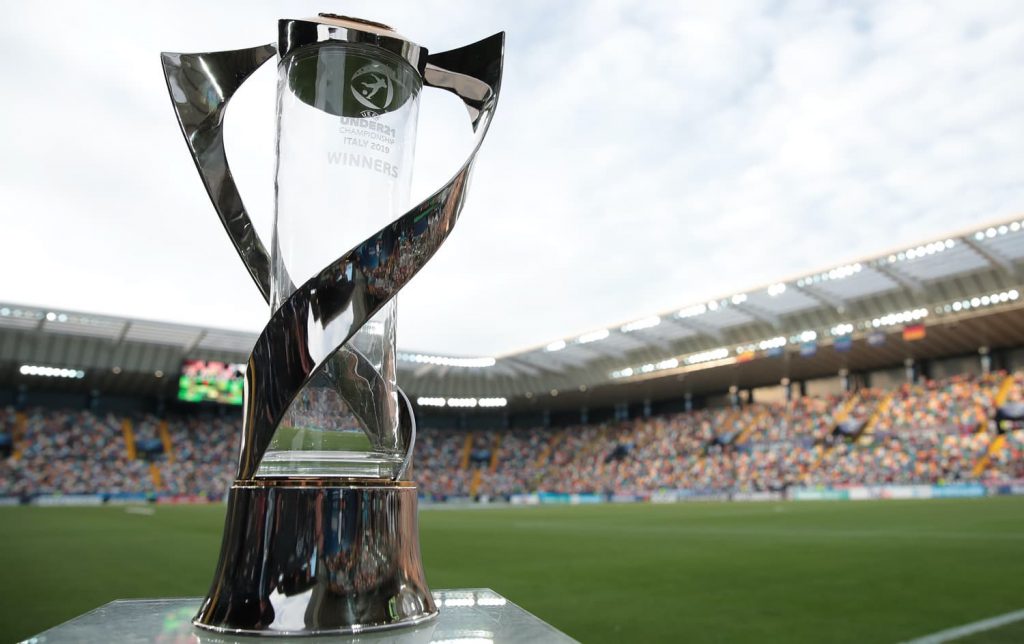 Created by craftsmen on the Venetian island of Murano, the UEFA European Under-21 Championship trophy stands 60cm tall. The central glass vase is finished with brass, nickel, and 24-carat gold.
The original trophy, which is used for the official presentation ceremony at the final, remains in UEFA's keeping at all times. A full-size replica is awarded to the winning association.
Each association that competes in the final tournament will receive a commemorative plaque, while 35 gold medals are presented to the winning team and 35 silver medals to the runners-up. The teams beaten in the semi-finals will each receive 35 bronze medals.